HID/Omnikey Smart Card Readers

The Omnikey high performance smart card readers CardMan are the result of long years of experience and offer you reliable performance in application areas such as PC security, Internet security, E-Commerce, home banking, credit card payments, access control, digital signature or PKI. Used with PCs, notebooks, servers and mobile devices Omnikey offers a diversified product portfolio to meet various requirements.

Following versions are available:
Serial
USB
PCMCIA
PC ExpressCard
USB-Dongle
PinPad
RFID
Based on revolutionary chip technology, most readers support reader-to-card data transmission rates of up to 420 kBits per second, setting a performance standard in the market. Omnikey readers, which work with virtually any contact smart card, are designed for maximum flexibility and interoperability and comply with all relevant industry standards.
---

Feitian Card Reader for Apple Mobile Devices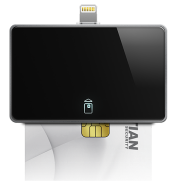 Connected Reader Feitian iR301UL
iPhone and iPad can access smart cards with the card reader iReader 301UL by Feitian. The reader supports smart cards based on ISO 7816 with the T0 or the T1 protocol. Custom solutions can be implemented with the available API and/or the software development kit (SDK). This allows to implement solutions for e.g. certificate based authentication, acceptance of payment cards or generation of one-time passwords on the iPad or on the iPhone.
The iReader 301 has the following features:
Dimensions 58 x 42 x 8 mm
Connection to the Apple device via the 8 pin Lightning connector (iR301UL-C12A), via the 8 pin Lightning connector with short stand (iR301UL-C56) or via an USB-C connector (iR301UD-C60)
Version iR301UL supporting iAP1
Version iR301UD-LT supporting iAP2
USB cable included
Operating system iOS 3.1.3+
Smart cards based on ISO 7816, T0, T1, Class B, Class C, Class BC
Inquiry for Feitian Products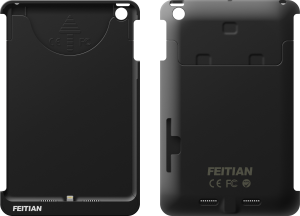 iPad Cases with Integrated Smart Card Reader
Four models, the iR301C32, iR301C29, iR301C42 and the iR301C48 are available.
Variants iPad cases:
iR301C32 fits iPad Mini 1/2/3, dimensions 218 x 140 x 15.5mm
iR301C29 fits iPad Air 1, dimensions 256 x 174 x 14.5mm
iR301C42 fits iPad Air 2, dimensions 256 x 174 x 14.5mm
iR301C48 fits iPhone 6/6s, dimensions 15.75 x 69.6 x 16mm
The cases include a smart card reader for contact cards on the back. Thus, the cases handle two security challenges:
They protect the pad from physical damage
The card reader for smart cards allows using proven access control technologies (e.g. card-based PKI).
Bluetooth Smart Card Readers Feitian bR301 und bR301BLE
The Feitian Bluetooth smart card readers bR301 are the perfect add-ons to bring PKI security to any mobile device.
These readers fit perfectly into mobile usage scenarios, where smart cards are required and convenience is a plus. With the Bluetooth interface, the bR301 can be used for iOS/Apple, Android or Windows mobile devices. The Micro-USB connector allows to use the reader connected to a PC and to charge the battery.
The bR301 Bluetooth smart card readers provide the following features:
Dimensions bR301: 85 x 64 x 13.5 mm, bR301BLE: 91 x 63 x 8 mm
bR301: Battery 800 mAh, battery run time approx. 8 hours, battery customer replaceable
bR301BLE: Battery 350 mAh, battery run time approx. 1 week
Micro USB connector to charge the battery and operation as connected card reader
USB cable included
Bluetooth data throughput 750 kb/s to 1 Mb/s
Bluetooth data encryption based on AES-128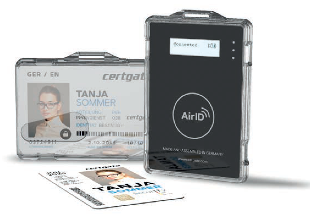 ---

Bluetooth Smart Card Reader AirID2 by Certgate
AirID2 is a combined smart card reader and ID badge holder. It uses AES-256 encryption to ensure secure data transfers and Bluetooth low energy technology for a wireless connection to your smartphone, tablet, laptop or PC. In companies where a public key infrastructure (PKI) is already in place, employees can continue to use their company ID cards. AirID2 is characterized by its discreet design in form of an ID badge holder.
You can carry AirID® together with your company ID badge at all times and in contrast to conventional card readers, the smart card remains inserted in the reader all the time. The advantages are obvious:
You can use your PKI card in the usual way
A very high encryption standard for your corporate data
Straightforward integration into the corporate infrastructure
Wireless, secure connection to all Bluetooth-compatible equipment (tablet, smartphone, PC, laptop, etc.)
Access to equipment is automatically locked once the AirID2 exceeds a certain distance from the equipment (distance logout)
Battery lasts 3 weeks
Smart design and ultralight weight of 45 g

---

Foldable USB Smart Card Reader IDENTIV SCR3500
The "SmartFold" SCR3500 mini USB reader is a fully ISO 7816 compliant contact smart card reader which is perfectly suitable for a wide range of application areas for government, enterprise and home use. Providing full compliance with all major industry standards such as ISO/IEC 7816, USB CCID, PC/SC, and Microsoft WHQL, the SCR3500 seamlessly works with virtually all contact smart cards and PC operating systems.
With its ultra-compact yet reliable Identiv design and mechanical functionality, it is the ideal travel companion for mobile users requiring the same level of data protection as is required for desktop applications. With SCR3500, the end user experiences convenience, transaction-time efficiency, security, and reliability for applications such as network log-in, Windows authentication and Single Sign-On.
Technical specifications:
Host Interface: USB 2.0 CCID (USB 1.1/3.0 compliant)
Communication Speed 12 Mbps (USB 2.0 full speed)
Smart Card Interface: ISO/IEC 7816 Part 1 to 4, EMV 2008 Ver. 4.2 Level 1
All major ISO/IEC 7816 compliant Smart Card IC support, Smart Card Protocols: T=0, T=1
Smart Card Interface Speed: Up to 600 kbps (depending on card) / TA1=97
Supported Smart Card Types 5V, 3V, and 1.8V, ISO/IEC 7816 Class A/B/C
Dimensions: 48 x 20 x 12 mm (folded)

Weight: 12g
Versions with USB-A (Standard connector, top picture), USB-B (Mini connector, center picture) or USB-C (Micro connector, bottom picture)
Systems/Standards: EMV 2008 Ver 4.2 Level 1, ISO/IEC 7816, USB 2.0 Full Speed, CCID, Microsoft® WHQL
Supported OS: Windows, MacOS X, Linux, Android